Bio-Med Healthcare, as a leading manufacturer of Medical Disposables has been serving the Medical Device Industry for 18+ years. Bio-Med exports high-quality Infusion Therapy products which are CE compliant. Our IV products make a clinical difference when it comes to ensuring the patients' safety and reducing the risk of infection. They are sterile, latex-free, non-pyrogenic, and offer single-use.
Infusion therapy involves the administration of medication (I.V. Fluids), through a needle or catheter. Typically, "infusion therapy" means that a drug is administered intravenously or subcutaneously i.e. insertion of medicine, fluid or blood directly into your bloodstream. This makes the treatment fast and powerful.
The Infusion Therapy products help the medical professionals to deal with all aspects of I.V. medication infusions. With our wide range of products, the customer can get the complete range under one roof. Our specially designed Safety I.V. Cannula ensures patient as well as end-user safety from needle-stick injuries. The company with its special technique of siliconization provides a sharp and smooth needle in all products for maximum patient comfort & minimum tissue trauma during usage.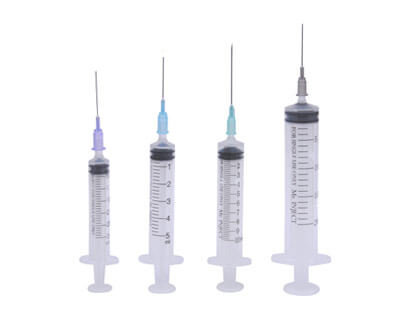 MR. INJECT Disposable Syringes
( Sterile Hypodermic Single Use Syringe With or Without Needles )
Compatible with all medications. Transparent & smooth sliding plunger. Latex-free Elastomer Gasket.
View More Details
• Luer Mount, with or without a needle.
• Ultra sharp needle, minimum pain.
• Manufactured as per ISO 7886.
• 5-year self-life.
PACKAGING OPTIONS
• Available in Ribbon & Blister pack
• Available Sizes
1ml/cc
2ml/cc
3ml/cc
5ml/cc
10ml/cc
20ml/cc
| Syringes Size | Needle Size | Inner Box | Blister Pack Outer Box | Ribbon Pack Outer Box |
| --- | --- | --- | --- | --- |
| 1ml/cc | 25G-28G | 100 Pcs | 2400 Pcs | 2000 Pcs |
| 2ml/cc | 21G-26G | 100 Pcs | 2400 Pcs | 2000 Pcs |
| 3ml/cc | 21G-26G | 100 Pcs | 2400 Pcs | 2000 Pcs |
| 5ml/cc | 21G-24G | 100 Pcs | 1800 Pcs | 1600 Pcs |
| 10ml/cc | 21G-24G | 100 Pcs | 1200 Pcs | 1000 Pcs |
| 20ml/cc | 21G-22G | 50 Pcs | 600 Pcs | 300 Pcs |
View Less